How To Use Your Bullet Journal For Some Serious Goal Planning
Bullet Journal Goals Planning
If you love using your bullet journal as a 'one-stop' shop for all of your life's organizing, then it only makes sense to use it for your goal setting and goal planning too.
THIS POST MAY CONTAIN AFFILIATE LINKS. PLEASE READ MY DISCLAIMER FOR MORE INFORMATION
I'm a massive fan of the The 12 Week Year: Get More Done in 12 Weeks than Others Do in 12 Months, and have always loved the idea of goal planning in 12-week blocks of time. It's a long enough block of time to really see/do/make some major progress, but not too long that you can give up all hope of living.
Because, let's be honest, going after some big goals can be a challenging slog.  Big goals are exciting and amazing, but they can also be overwhelming.
Sometimes there is fun stuff that you have to give up and whilst you know that it will be worth it, there are always the ups and downs on the road to achieving a big goal.
But with a pre-set time period of 12 weeks, you know that if you just break your big goal into smaller milestones to be hit along your 12-week path (and you do the work of course!), you know that you will get there. And 12 weeks goes by so fast, in the grand scheme of things.
A 12 WEEK ROADMAP TO YOUR BIG GOALS
A while back, I set up a goal setting worksheet that I would use to breakdown big goals to smaller milestones and tasks (you can download a free copy below).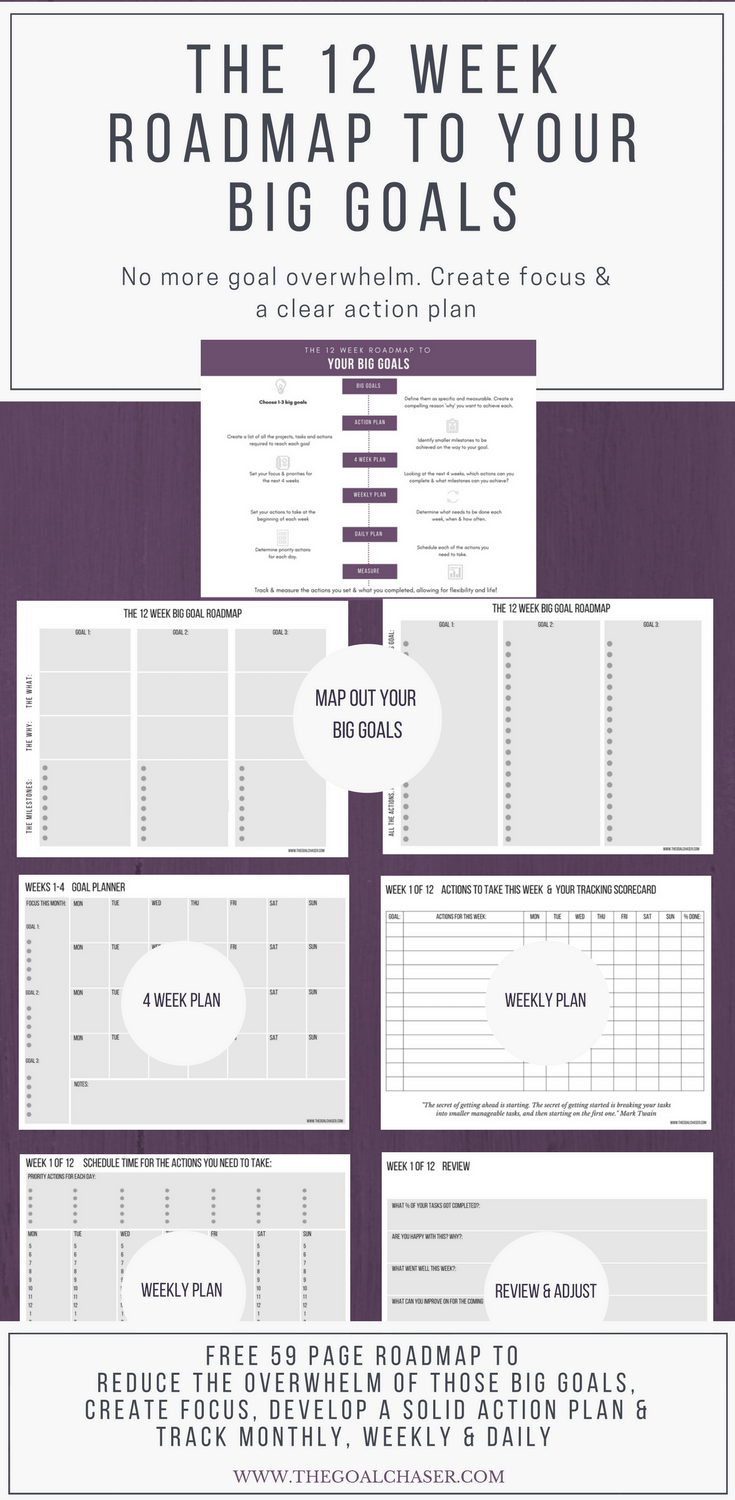 The goal setting worksheets are a complete 12 week printable to map out your big goals and how you will achieve them over 12 weeks.
There is room to really 'nut out' the goal setting aspect, but perhaps more importantly, you create a solid plan for how you are going to break down this goal into actionable chunks over the period of monthly, weekly and daily tasks over the 12-week period.
From there, you also have a way to track and measure the actions you are/should be taking along your goal roadmap.
I still love the layout and the ability to really create a solid action plan, but I wanted to try incorporating my goal planning into my bullet journal. To simplify and streamline the whole process.
GOAL SETTING IN A BULLET JOURNAL
Depending on what goals I am wanting to work on, I would usually only aim for 2 goals at a time. But in my current situation, I'm not taking my own advice, instead aiming for 3 goals for this 12-week period.
Contrary to popular goal-setting belief, I don't aim to rigidly structure my goal into the 'SMART' format, but instead I try to make it more about how it will make me feel, and the reasons I want to achieve this goal.
I do make sure it is still specific & measurable enough that I know what I'm aiming for, attainable within 12 weeks, relevant to my 'why' and well, it is timely as the plan is to achieve each milestone along the way, but within the 12 weeks.
THE GOAL ACTION PLAN
From there, I create a list of all the projects, tasks and actions required to reach each goal, also identifying smaller milestones to be achieved on the way:
THE 4 WEEK GOAL PLAN
Then at the beginning of each month (or 4 week block), set your focus and priorities for these next four weeks, like in the below bullet journal monthly layout.
Which actions can you complete & what milestones can you achieve towards your goal?:
THE WEEKLY GOAL PLAN
The next step is to then consider what tasks, actions and habits you need to be doing weekly in order to reach your milestones and overall goals.
Determine what needs to be done each week, when and how often.
In the below bullet journal weekly layout, you can see that the goal related actions are top priority for the week and set up like a habit tracker.
Additionally, there is the ability to track if you are taking the required actions and sticking to the habits required to achieve your goal. By allocating a %, you can also track how well you are staying on target.
You can also keep a separate section for each day, dedicated solely to your priorities and goals so that you are sure to schedule them into your busy day:
THE WEEKLY REVIEWS
12 weeks can be a short amount of time. So, in order to achieve a big goal in such a relatively short amount of time – well, it requires ongoing progress.
Of course, we all have ups and downs along the way, we're only human! But a great technique to stay on top of this is to review and reflect on your goals each week.
The idea isn't to be too hard on yourself, but instead to reflect on what went well and what you can improve for the next week. Sometimes, all you need is a little correction and it's enough to get you back on track.
I don't do it every week (probably should!), but I like to leave a two-page layout in order to reflect on the past week, make any notes or progress and record any inspiring quotes:
GOAL PLANNING IN A BULLET JOURNAL
When it comes down to it, achieving a goal is a series of steps:
1. Setting the goal,
2. Making a solid plan to achieve it,
3. Doing the work,
4. Sticking to it and seeing it through.
Whilst a bullet journal can't make you stick to your goal or do the actual work, it is a great tool to be able to visually set and plan out your goal in a way that motivates you personally. 
By keeping your goal planning in your bullet journal, you can incorporate it into your already busy schedule and keep all your planning needs in the one place. 
The above examples are simple bullet journal layouts that I have been using to map out my current goals, but they can easily be adjusted or decorated.
All the best with your exciting goals!